Meet Livewire™:
Livewire™ is a high-performance electric street bike.  It boasts an impressive 105 HP electric motor with 86 ft-lb of instantaneous torque.  The motorcycle will do 0-60MPH in 3 seconds.  Livewire™ is powered by the H-D® Revelation permanent magnet motor that produces 100% of it's rated torque. There is no clutch. Just twist and go. 
The Battery:
Livewire™ contains a RESS (Rechargeable Energy Storage System).  When the motorcycle is coasting off-throttle the motor becomes a generator and puts charge back into the RESS.  This creates an engine braking effect and conserves energy while boosting performance.  Set properly, a rider can tackle technical mountain roads and curves with minimal braking.  The RESS is made of several Li-Ion cells enclosed in an exposed finned aluminum housing which acts as a heat sink. The RESS is attached to the frame and is a stressed member of the motorcycle frame structure.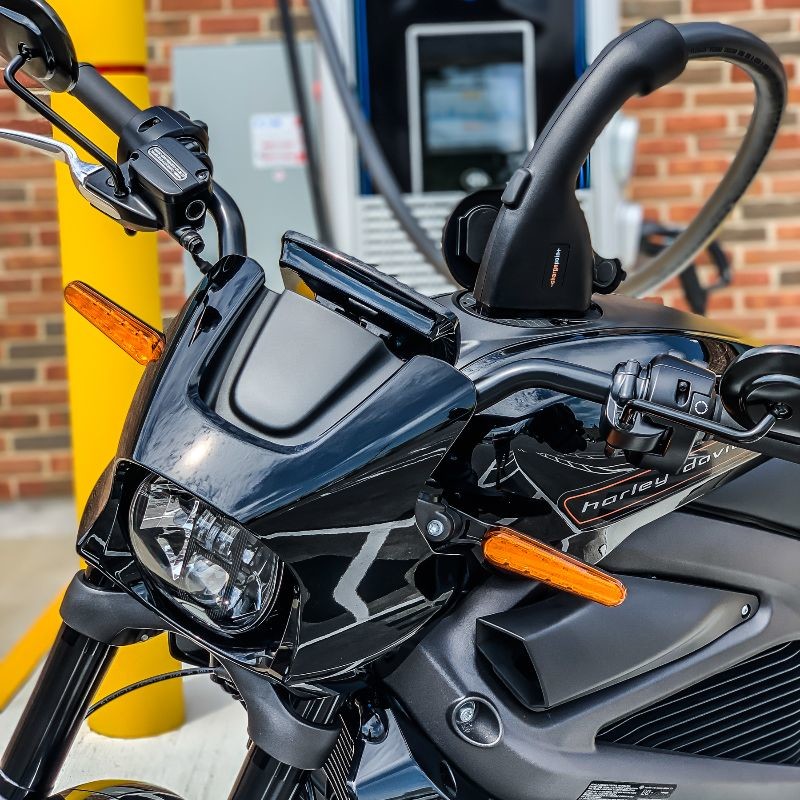 Charging:
Livewire™ comes with a Level 1 charger which stores neatly under the seat.  A Level 1 charger can be plugged into a standard wall outlet and into the bike at the "gas cap" charging port.  A Level 1 charger will charge the motorcycle at a rate of 13 miles/hour or about 11 hours to full charge from zero.  Livewire™ also boasts impressive on-board Level 3 (DC Fast Charging) capability.  At a Level 3 station the motorcycle will charge at up to 24kW which will re-charge the RESS at a rate of 192 miles/hour or 40 minutes to 80%, 60 minutes to 100%.

An agreement between ChargePoint and Harley-Davidson® provides Livewire™ owners with 2 years of free charging at Harley-Davidson® dealerships.  Additionally, H-D is giving 500kWh of free charging to Livewire™ owners at all Electrify America stations.
Other Features:
Livewire™ carries super-bike specifications.  It also comes standard with RDRS or Reflex™ Defensive Rider System including Antilock Braking, Cornering Antilock Braking, Rear Wheel Lift Mitigation, Cornering Traction Control, and Drag-Torque Slip Control.  RDRS can be turned on and off with a button.  Livewire™ has LTE connectivity to keep you connected via H-D Connect and the H-D app when you are away from your bike.  Livewire® also features the best braking and the best suspension ever offered on a stock Harley-Davidson® motorcycle.  Bluetooth connectivity allows a rider to connect to all the functions on their phone via the adjustable TFT color touchscreen display.  Livewire™ has seven selectable Ride Modes which can be set with the push of a button.  These modes include Sport Mode (Max Power), Road Mode, Range Mode, Rain Mode, and programmable custom user modes.  
The Verdict:
So, now that we have ridden this bike we can conclude it's fun.  Super fun.  It is a totally different animal than any of the products we have offered.  For local rides and commuting, this is a great motorcycle, especially if you have a place to plug in your motorcycle at work. It would also be a great bike for someone who loves the technology and the concept of a super efficient and fun motorcycle. If you want to take long trips you would need to find a DC fast charging station every two hours or so and be prepared for a 40-50 minute charge.  Is that a deal breaker for distance riding?  Hardly.  For some of us, an hour break for every two hours of riding is ideal.   Many attractions, rest areas, and retail outlets (such as Livewire™ carrying Harley-Davidson® motorcycle dealerships) have installed chargers as a service to the EV community.  If you look on Plugshare, it is surprising how many charging stations there already are with more being added daily.  With a little planning, long distance riding on a Livewire is certainly possible.  After all, Ewan McGregor and Charley Boorman managed to ride two Livewire™ motorcycles from Patagonia to California in territory with virtually no charging infrastructure!

Livewire™ also has super-bike finishes with every fastener, every casting of the frame, motor, RESS, forks, and wheels being a testament to the capabilities of American manufacturing.

EV is undeniably a big part of the future of transportation and with Livewire™ the Motor Company has taken the lead with the premier offering in the EV motorcycle marketplace.  They said H-D couldn't do it.  They did and it's here. Come on down to OSHD for a full Livewire™ viewing, EV presentation, and test ride for qualified individuals.  The future is now.  Let's Ride.
See Current Available LiveWire Motorcycles