OSHD's sh
owrooms are increasingly becoming a refuge for artifacts from Rhode Island's manufacturing past.  Today we got to tour the Christiansen Dairy in North Providence and purchase some artifacts for display in our showrooms. Jay and Sue Christiansen were wonderful hosts explaining the Dairy's history which goes back almost 100 years!  Sue showed us some amazing pictures from the dairy's beginning where milk was delivered in horse drawn carriages.  As recently as last year, the company employed four milkmen delivering milk and other food items to over 1000 homes. 
We were treated to a tour of the facility which includes milk storage, pasteurizing and bottling equipment.  Sue pointed out everything that was for sale including the Divco milk trucks (which still run!) and the neon "Christiansen's Fine Milk" sign on the building.   Most notably for sale was an addressograph machine (very similar to the one we have at Ocean State H-D) which was used in lieu of a computer as part of a manual customer and order fulfillment system. 
The place was incredibly fascinating and Sue passed along some papers, photos and other materials to display with the crates and milk jugs we were able to purchase.  She also gave us some of the most delicious home made chocolate chip cookies we've ever eaten! We are proud to be able to preserve and perpetuate these pieces of Rhode Island history.  Stop by OSHD today for a glimpse of what life was like when milk was delivered by bottle to your home and the milkman was someone you knew as a friend.
The Addressograph machine
Inside the milk plant
The logo on the back of a delivery truck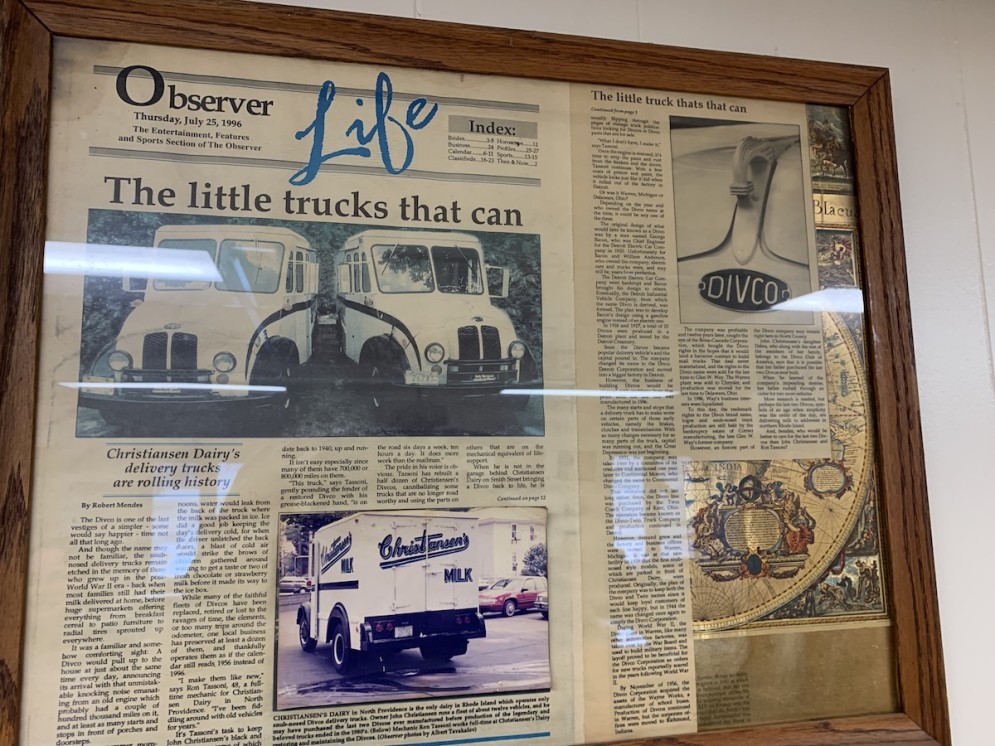 A neat article on the wall about the dairy.
A milk truck during the Blizzard of '78
One of the four milkmen who delivered to over 1000 homes.
Horse-drawn delivery days