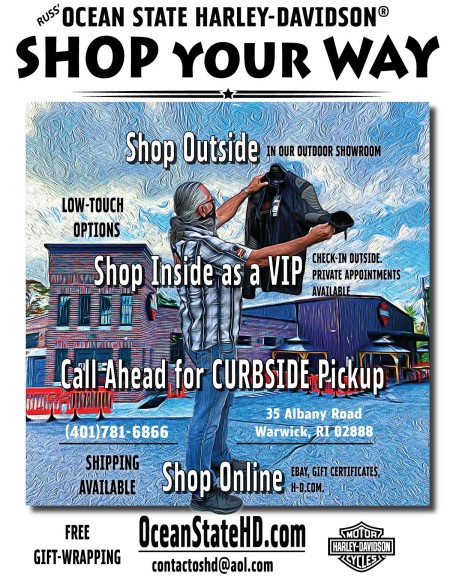 Shop your Way at OSHD:

1. SHOP OUTSIDE IN OUR OUTDOOR SHOWROOM
Don't want to come inside?  No Problem!  Come shop our outdoor showroom (weather depending).  New items added daily.  Cash-out outside, free gift wrapping available.  Minimal touch customer service.
2. SHOP INSIDE AS A VIP (Fill Out Form Below)
Make an appointment or just ask to come inside when you are here.  If we have capacity we can guide you on a first-class personal shopping experience.  Check out curbside when you are finished.  
VIP Shopping Appointments
3. CALL AHEAD FOR CURBSIDE PICKUP
CALL US AT (401)781.6866 and have us put the parts and merchandise aside for you.  Pay over the phone or curbside when you pick up.
3. CALL AND HAVE US SHIP IT TO YOU
CALL US AT (401)781.6866. Pay over the phone and we can ship it to you! Reasonable Shipping Rates.  NO SHIPPING ON SELECT ITEMS!  FREE GIFT-WRAPPING!
4. FILL OUT AN ONLINE PARTS OR MOTORCLOTHES REQUEST FORM
Parts Request Form.     Motorclothes Request Form
5. SHOP OUR EBAY STORE
Warwick eBay store

6. SHOP H-D.COM (CHOOSING OSHD AS YOUR DEALER OF CHOICE)
Shop H-D.com (choose OSHD as your dealer of choice)

7. BUY AND SEND AN OSHD GIFT CERTIFICATE
Buy an OSHD Gift Certificate