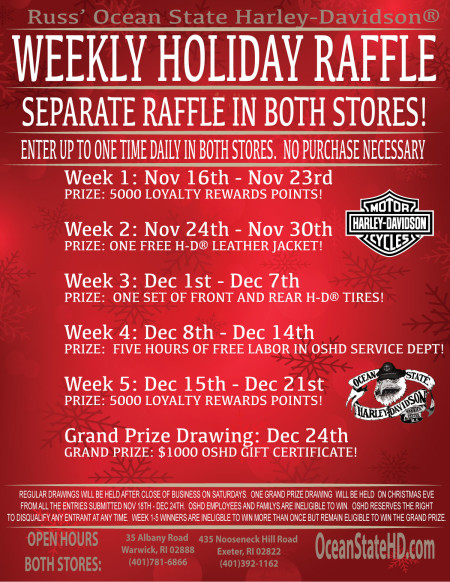 Week 1: Nov 16th - Nov 23rd . PRIZE: 5000 LOYALTY REWARDS POINTS!
Week 2: Nov 24th - Nov 30th . PRIZE: ONE FREE H-D® LEATHER JACKET!
Week 3: Dec 1st - Dec 7th . PRIZE:  ONE SET OF FRONT AND REAR H-D® TIRES!
Week 4: Dec 8th - Dec 14th .  PRIZE:  FIVE HOURS OF FREE LABOR IN OSHD SERVICE DEPT!
Week 5: Dec 15th - Dec 21st . PRIZE: 5000 LOYALTY REWARDS POINTS!
Grand Prize Drawing: Dec 24th . GRAND PRIZE: $1000 OSHD GIFT CERTIFICATE!
REGULAR DRAWINGS WILL BE HELD AFTER CLOSE OF BUSINESS ON SATURDAYS.  ONE GRAND PRIZE DRAWING  WILL BE HELD  ON CHRISTMAS EVE FROM ALL THE ENTRIES SUBMITTED NOV 18TH - DEC 24TH.  OSHD EMPLOYEES AND FAMILYS ARE INELIGIBLE TO WIN.  OSHD RESERVES THE RIGHT TO DISQUALIFY ANY ENTRANT AT ANY TIME.  WEEK 1-5 WINNERS ARE INELIGBLE TO WIN MORE THAN ONCE BUT REMAIN ELIGIBLE TO WIN THE GRAND PRIZE.